FAQ
We are conveniently located in the centre of the Mt Buller village, at the bottom of Bourke St chair lift, adjacent to the iconic Clock Tower. The Village Toboggan Park is 30m from our store entrance (yes, we are the closest store to the Toboggan Park).
Our direct store contact is 0357 776 088 or you can email us comms@georgesskihire.com.au.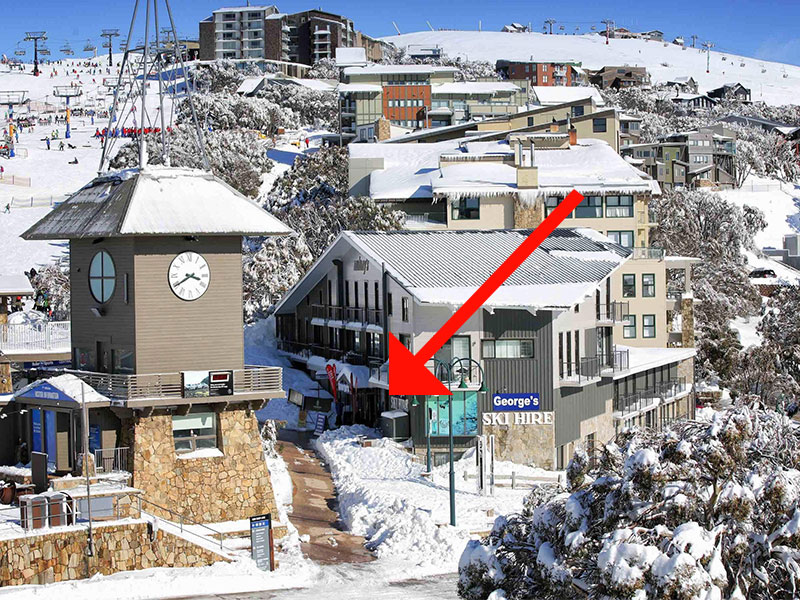 No problem, we are here to help. Our instore technicians can help fit you, show you how to use the equipment and give you handy resort tips.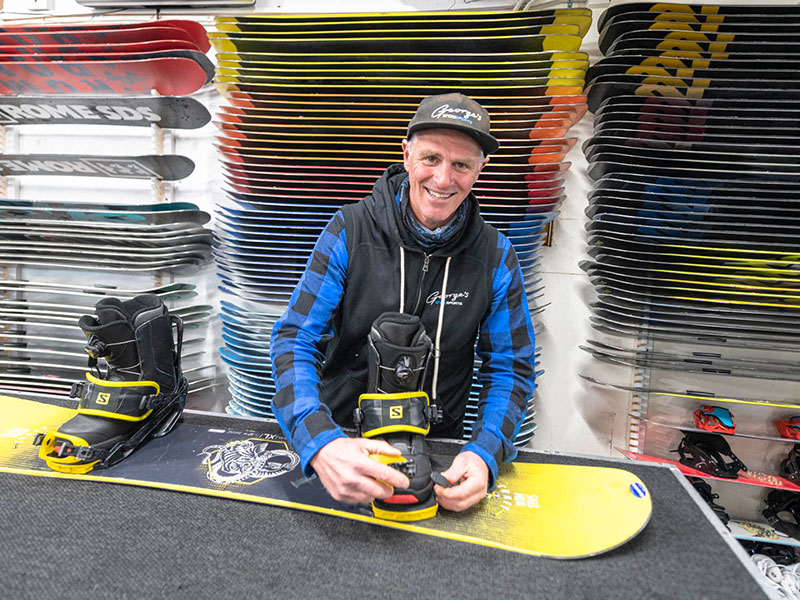 You can prebook your equipment via our online hire form. The online booking form requires inputting of the same information that you would otherwise supply us with instore, mainly easy to use drop downs. Online prebooking requires pre-payment in Australian dollars via our online merchant.
You immediately receive a 10% discount for prebooking online. You are free to make equipment upgrades or additions instore or swap your demo equipment. Changes are subject to availability.
Prebooking speeds up the instore process dramatically and helps us better cater for our prebooked customers needs, there is a comments section at the bottom of each hire form for special requests or any information you think we may need to get you better equipped – we do not reply to these comments on the hire forms but they are noted instore when we process your booking. You can email us if you have any other questions.
First of all let us assure you that this is very rare. For lost or stolen equipment, it is important to contact the store immediately 03 5777 6088 or preferably attend in-store for a better chance of recovery. Any lost, stolen or damaged equipment is charged for at the discretion of the Rental Manager, you are generally covered under your travel insurance, however we do charge this directly to the customer.
If you have an equipment problem please come into the store asap so that we can rectify it immediately. We want you to be kitted out correctly and to be comfortable. You are always welcome to come into the store for general advice and changes as required.
If you wish to swap between skiing and snowboarding (or vice versa), there is a charge of $35 each time you swap between sports. It usually takes approximately 10 minutes to change over (depending how busy the store is).
They are two different activities, like AFL and soccer. However, if you skate or surf, you may find snowboarding easier. If you do not skate or surf, you may find skiing easier.
There are many reasons to hire on mountain:
our location is ski-in/ski-out (the Bourke St Chair Lift is 30m from our store entrance)
any equipment issues can be immediately rectified including wrong size boots, binding malfunctions, poles snapping, shorter or longer skis/snowboard required
transporting skis and snowboards is challenging. They are bulky, awkward items that usually require specialist car roof racks
you may wish to swap between skiing and snowboarding
the weather and snow conditions may impact your decision to ski/ride
simply, it's hassle free!